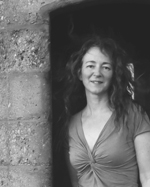 Michaela Harlow's recent series of oils, pastels and mixed media works combine the modern, energetic immediacy of sketching and drawing with the traditional, lengthy layering techniques of pastel and oil painting. Inspired by a lifelong fascination with nature, as well as her work in landscape design, the artist's process has come to reflect seasonal life cycles and environmental rhythms. The slow accumulation and peeling away of layers, an important process in nature, has become a metaphor for human experience in the artist's work.
Each piece begins with a sketch drawn from field notes and memory. A curious geometric pattern or dynamic point-of-view, a compelling color relationship or evocative play between light and shadow; unexpected or familiar moments that strike an emotional chord. For Michaela, time alone ---solitary woodland sojourns, forest hikes and wetland kayaks in all kinds of weather--- provides opportunity for observation and contemplation; starting and references points along her artistic journey.
Michaela has exhibited her paintings and drawings in galleries and juried shows throughout the United States since 1994. Her work has been featured and reviewed in various publications —including Vermont Arts and Living, Santa Fean Magazine and Pasatiempo— and is included in public, corporate and private collections in North America and Europe. Michaela lives and works in the foothills of Vermont's Southern Green Mountains.