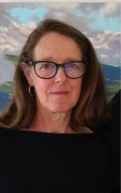 A contemporary realist painter working in oil and watercolor, Kathleen Kolb is known for her dramatic handling of light. She has participated in roughly 40 solo shows and 80 group exhibitions, including at the New Britain (CT) Museum of American Art and the Fleming Museum in Burlington VT. Her work has been represented by David Findlay Galleries (2003-2010) and Sherry French Gallery (1996-2003) in New York City, and by Clarke Galleries (1992-2009) in Stowe, Vermont. She is represented by West Branch Gallery in Stowe, VT, Furchgott Sourdiffe Gallery in Shelburne, VT, North Star Gallery in Grafton, VT and Mary Ann Doran Gallery in Tulsa, OK.

Kathleen describes herself as a "landscape painter, working and living along the spine of the Green Mountains of Vermont." which provides the "emotional ignition" that propels her art.

After graduating from the Rhode Island School of Design, she moved to the Northeast Kingdom to homestead. For several years, she and her husband annually produced 500 gallons of maple syrup. Kathleen taught art in local schools from 1978-1980. She has two children (her adult son has autism). Kathleen has been active in disability issues.